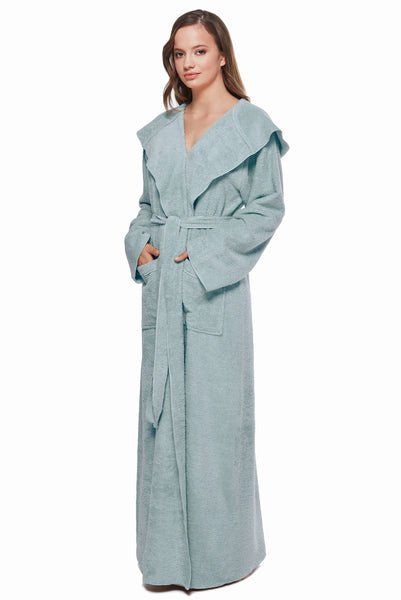 Women's Cotton Princess Style Long Hooded Lightweight Bathrobe
Women's hooded long housecoat robe made of light and soft Turkish Terry Cotton. A true FULL LENGTH Terry Cotton bathrobe. Arus Women's Princess Terry Bathrobe is designed for customers looking for a stylish and high quality true ankle length bathrobe made of premium Turkish cotton. Manufactured from High Grade Cotton with extra long fibers grown in the Aegean region in Turkey, it is lightweight in construction yet still has the unmatched absorbency of Turkish toweling. This 2019 Collection new bathrobe with overlock stitching on the edges, has a modern wide cut hood and patch pockets on both sides.
It has a self fabric belt with 2 belt loops. You may now enjoy the luxury and silky touch softness of this full length bathrobe.
100% Turkish Terry Cotton

Made in Turkey

Machine Wash - Tumble Dry Low - No Iron

Please refer to the Size Chart image for measurements

Hooded Full Length Style with overlock stitching on front facing, around hood, pockets and belt

Available in 5 Colors

Wide cut with hood, patch pockets on both sides and Self fabric belt with 2 belt loops

Long Sleeve